TEJE Agency
A network of specialised translators to meet your demands.
Translation agency
TEJE is a Translation Agency created in 1992, with an annual turnover of 300,000 Euros
TEJE is governed by a quality policy: a structure of human dimensions which favours direct relations with a limited number of customers
Types of document translated
Legal and financial
unit trust (SICAV) annual/six-monthly reports
-
monthly commentary
-
Fund Focus
-
employee savings schemes
-
general meeting minutes
-
company articles
-
etc
Medical and scientific
scientific and medical research
-
clinical files
-
laboratory analyses
-
medical reports
-
etc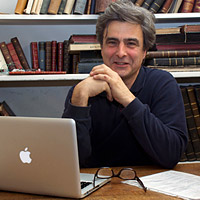 XAVIER NÉNY
The manager of TEJE
Paris School of Chemistry
Five years of work experience in the field of finance
Establishment of TEJE in 1992. Manager of TEJE since its foundation
OUR TEAM of SPECIALISED TRANSLATORS
forming a stable network
working in their native language
called upon according to their specific abilities in each assignment.
---
Our references